We've Thought of Everything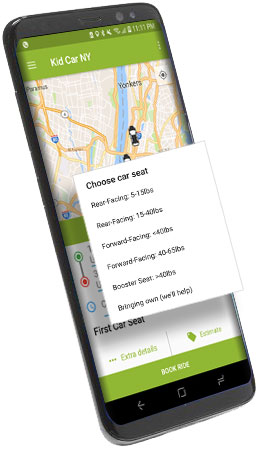 Fingerprinted, vetted,
trained, and NICE

The Appropriate
Vehicle
Choose from sedans,
minivans, or SUVs

The Right Car Seats
Properly Installed
Up to 4 car seats
for children 5 – 120lbs

Scheduled
Reservations
Schedule a car 30 minutes
or 30 days in advance
– Passengers must be able to access the Kid Car app on their phone.
– (If you're flying in from overseas, confirm with your carrier that you will have service.)
– Please email us if you are making a reservation on behalf of someone else.
Local Trips
– All price quotes include taxes and fees and a 15% gratuity for the driver which can be changed at the end of the ride.
– Traffic and round trip tolls are NOT included in the price estimate.  Press 'Estimate' on the app to see our assumptions.
– There is a $20 surcharge for all local weekday trips (M-F) between 6:45-8:30am and 2:30-4:15pm which IS included in the price estimate.
– There is a $25 surcharge for all trips starting or ending outside of NYC which is NOT included in the price estimate.
Airport Transfers
– Airport transfers are a fixed rate between NYC and local airports (except TEB) and do not include round trip tolls.
– We do not charge waiting time for airport arrivals.
– Click HERE for a brief but important tutorial on airport arrival reservations.